Traditionally, programs for men who batter have not included a focus on their own victimization issues.  Yet studies have shown that partner-violent men have insecure attachment issues more than non-partner violent men (Holtzworth, et al. 1997, 2003).
Partner-violent men report childhood experiences of direct exposure to interparental violence, rejection by fathers, and insecure parental attachment.  Weak parental attachment characterized by low warmth, trust, or positive communication is a predictor of IPV in adulthood.  One half or more of partner-violent men have childhood trauma histories related to direct maltreatment and exposure to IPV.  According to Brené Brown (2012), trauma is stored in our bodies as shame.  Such shame-based trauma is seen to cause problems with emotional regulation as well as problems in accessing conflict resolutions skills in close relationships leading to attempts by men to control their partner in order to minimize exposure to shame and trauma related pain and feelings of inadequacy. 
This workshop will provide an overview of treatment with men who batter and a rationale for the inclusion of shame-based trauma work with this population.  Using group exercises and "hands-on" practice, specific detail about how shame-based trauma work can be integrated in treatment will be presented.  Through interactive and experiential exercises, emphasis will be on understanding the trauma-shame connections from both a personal and professional perspective.  Participants will be encouraged to explore their own shame-based experiences as a method of improving application to current clinical cases.  Concrete examples of shame-based treatment methodology, based in part upon participant provided case examples, will provide a basis for discussion.
Learning Objectives:
By the end of this presentation, participants will:
Understand why it is important to consider the role of shame-based trauma in men's relationship violence: the connection between shame, trauma, and domestic violence;

Explore personal connections to shame issues as a method of deepening insight and practicing clinical assessment and intervention methods;

Hear about a cognitive-behavioral process group model for integrating shamed-based trauma work with domestic violence abusers;

Discuss the implications for outcome and longer-term treatment for Batterer Intervention Programs (BIP's).
Cost
Standard Registration - $38
Student Registration - $25
Lunch Included
CEUs
7 CEUs will be provided. Social Work CEUs will be available.
About the speaker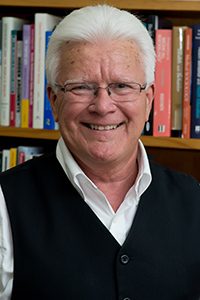 Dr. Hanusa is a Senior Preceptor and Senior Lecturer at the School of Social Work, University of Wisconsin-Madison where he has taught since 1978.  He is a 1997 recipient of the Luan Gilbert Award for outstanding contributions in domestic violence intervention and prevention awarded by the Dane County Commission on Sensitive Crimes, Domestic Violence Coordinated Community Response Task Force.  He is a member of the Wisconsin Batterers Treatment Providers Association and the Dane County domestic violence task force, both of which he is a founding member and past chair.
Clinically, Dr. Hanusa has specialized in domestic violence with both perpetrators and the survivors of violence since 1980.  Since 1989 he has offered assessment and treatment services for abusive men through the ATAM Program (Alternatives and Treatment for Abusive Men) and counseling for survivors through the Midwest Domestic Violence Resource Center at the Midwest Center for Human Services.  Dr. Hanusa is a frequent speaker and has provided several hundred presentations, lectures, appearances, and workshops concerning a variety of topics.  He provides consultation, expert witness services and training to private and public agencies and professionals working with domestic violence, workplace violence, corporate communication, and anger management-fitness for duty issues. He has conducted training workshops nationally and internationally, including work with the Department of Defense, Naval and Marine Corps Family Advocacy Programs.   His presentation is based upon nearly forty years of direct clinical practice with men who batter.
Cancellation Policy
If for any reason you are unable to attend your scheduled course, please contact us prior to the start date of the course. This will ensure that we can provide a full refund of your course fees. If there are extenuating circumstances that prevented you from attending a course, please contact our office as soon as possible. If we do not receive any correspondence from you, you will be responsible for full payment of course fees