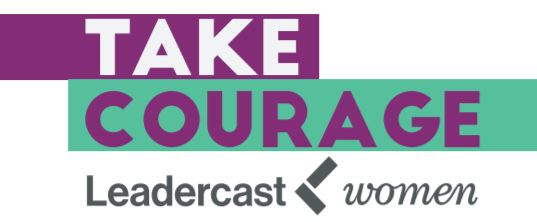 Courage is not the absence of fear; it's acting in spite of fear. When we consider courage, firefighters, policemen, pilots and military personnel come to mind. But courage isn't reserved for a select group of leaders. Opportunities to take courage rise every day in many forms, and it's up to us to seize those moments in our leadership. When you lead regardless of your fears and take risks for the chance to further your organization or community, you are leading courageously.
At Leadercast Women 2019, attendees will be emboldened to take courage in their daily lives, whether it be in the workplace or at home. At this one-day leadership event, nine expert leaders will share their inspirational stories of courage while also teaching us steps to enable change in our lives. Leadercast Women features an all-female cast, but it's not a women's event. Both men and women are invited to hear from the leaders who will share from our stage. Leadercast Women attendees will walk away with the courage to make a difference in their lives, the boldness to take control of their careers and the confidence to lead themselves and others to better futures.
About Leadercast Women
Bringing nine world-class leadership experts to one stage in a single day, Leadercast Women provides attendees with a transformative leadership experience. Leaders from all walks of life attend this event in October in Atlanta and at Host Sites across the globe to hone their leadership skills and styles. Attendees will take home wisdom and tools they can apply immediately from an all-female cast of speakers.

Click HERE for speaker bios.
Cost: 
$69 - Standard Rate
$35 - NTC Staff / Currently Enrolled Student Rate
Networking Hour
Stay after the conference to network with other professionals and share your thoughts on the days topics!
Flexcast Presentation
In an effort to provide an optimal viewing experience for attendees, this year's event will be presented in a Flexcast format. This re-broadcast will allow us to avoid any potential technology issues that may arise during a live broadcast. This format also provides the opportunity to deliver the same content in a slightly shorter day, as requested in attendee feedback from years past.
CEU Information
Certificates of Attendance will be provided. Specific CEUs are available through Leadercast.
Location
The Flexcast broadcast will be presented at the Wausau, Wittenberg, and Antigo campuses.
NTC Wausau Campus
Center for Health Sciences - Conference Room 1004
Cancellation Policy
If for any reason you are unable to attend your scheduled course, please contact us prior to the start date of the course. This will ensure that we can provide a full refund of your course fees. If there are extenuating circumstances that prevented you from attending a course, please contact our office as soon as possible. If we do not receive any correspondence from you, you will be responsible for full payment of course fees.
Additional Information