The multidisciplinary staff working in the provider fields face daily stressors in providing the quality of services they are dedicated to. Dealing with staff shortages, lack of needed resources, being the catalyst for motivation and change can take a toll.
Life can bring many difficult moments, work can be tough, and the only control we have is over what we choose to do with it.  We ALL need more love and more laughter in our lives- we need to make time to celebrate and enjoy the gifts we've been given! Those of us that work serving others often leave ourselves behind. We assist others in wellness planning and rarely make space for our own. During our time together we will explore where we are, where we want to be, and many ways we might practice getting there! Bring your beautiful, creative, willing self and join us while we work our way back to love and laughter!
Life is too short- have fun, laugh a little, love what you do, and do what you love!  YOU ARE WORTH IT AND YOU MATTER!! This day of learning is about how to replenish one's self, take care of the provider/ professional so they can continue to feel energized to give their best and be their best without sacrificing their health and well being! Come prepared to learn, interact, play, re-engerize and have fun!
Learning Objectives
Participants will be able to identify 3 self-care techniques they can use immediately.

Participants will learn why research supports use of humor to heal, by identifying 3 facts for the use of humor in self-care and healing

Participants will learn 3 strategies to promote their personal goals for ongoing resilience .
Meet Tamra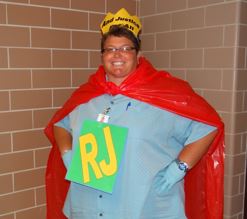 Tamra Oman is the 2015 recipient of the State of Wisconsin's Virginia Hart award. She is a national speaker, consultant, group facilitator, and believes deeply in cultivating a culture of hope, healing, and compassion for all. She is a co-founder of Hope Road, LLC – Soul Punch Skill Training (with love).  Her audiences range from corrections, judicial folks, lawyers, law enforcement, juvenile justice, school systems, county agencies, community support agencies, Peer Support Agencies, SAMSHA grantees, and participants at many, many conferences.  Her "day job" is Human Services Program Coordinator Recovery Support Specialist at the Wisconsin Resource Center; a mental health treatment facility classified as a prison. She was the first "peer/consumer" to be hired in the state of Wisconsin to work in a correctional facility in the past 30 years. Over the last 12 years she has been working with individuals in the criminal justice system with addiction and mental health challenges. She has been an AODA Counselor for 10 years. She has facilitated Thinking for a Change, Anger management, Domestic Violence groups, and assisted people with reentry planning. She has sat on many committees, developed programs, and helped develop policy and procedures that represent the voice of those we serve. She has also been a part of helping to develop a Peer Support Program that has an interest in creating an environment that is also mindful of the potential for vicarious trauma and its effects on the individuals who work serving others.
Ms. Oman uses humor and compassion to connect with her audience. She brings a unique perspective based on her own personal and professional experiences. Ms. Oman is a proponent of systems creating a recovery "culture" that includes Trauma Informed Care, Person Centered Planning, Strength Based Approach, Motivational Interviewing, and Evidence Based Practices.
Meet Lorie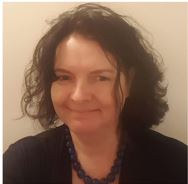 Lorie A. Goeser has over 30 plus years in the Substance Abuse Counseling field and 15 plus years in the Occupational Therapy Field working with people who are dealing with life challenges, helping them to move forward in healing to gain recovery from substance abuse, mental health and physical challenges.  Ms. Goeser is a national speaker and trainer and an Independent Clinical Supervisor, Clinical Substance Abuse Counselor, Certified Occupational Therapist Assistant. Ms Goeser is UW Madison Alumni and Madison College graduate with a career long focus on helping clients who are facing daunting challenges from the criminal justice system with substance abuse, mental health and physical symptoms to those who are dealing with acute medical institutions. Providing direct care services, supervising staff, program development, student supervision and nurturing support of resilience building for staff providing the services on a daily basis.
Ms. Goeser is an energetic, creative and motivational presenter incorporating research with daily life experience in bring these concepts together in an energizing way to help support self care and growth for the person whom gives to others. 
Cost
$75 - Early Bird until November 1, 2019
$90 - After November 2, 2019
Lunch Included
Target Audience
All are welcome! Especially those in human services, law enforcement, healthcare, justice systems, school systems, community support agencies, and counseling.
CEUs
6 credit hours (Social Work CEUs available)
Cancellation Policy
An attendee must notify NTC of a cancellation prior to the beginning of the event in order to have fees removed or a refund issued. Attendees who do not attend without notifying Continuing Education will be responsible for payment of all course fees and will not be eligible for a refund.
Additional Information