Every day, we move in one direction or another. We're free to choose from endless possibilities. Only you can choose the direction for the rest of your life. Whether you are a seasoned executive, emerging leader, stay-at-home parent, or college student, frustration is inevitable. Now is the time for you to SHIFT from, "I'm so busy and stressed," to, "I'm living my ideal life right now." In this presentation, Derek will teach you a 5-gear process that you can apply in your personal and professional lives. Each gear will uniquely move you from frustrated to fulfilled. Through powerful questions and compelling exercises, you'll discover how to make today the day you are inspired to change. It's your next move!
Meet the Presenter: Derek Deprey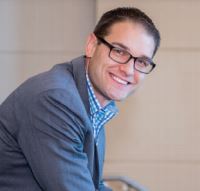 Derek's passion in life is to evoke excellence in every person at every level. After a career of working in basketball operations at the collegiate and professional levels, he empowers others both as the director of people at a fitness club and as a leadership professor at a university. Derek founded Move Results to impact the lives of individuals, organizations, and communities. Today, he loves to inspire and influence others as a speaker and writer. He is the author of SHIFT: Move from Frustrated to Fulfilled
LOCATION: 
Attend online or in-person.  Our in person session will be socially distanced with a capacity of 20 attendees.  The session will also be livestreamed for virtual attendance.
1000 W Campus Dr
Center for Business and Industry 
Wausau, WI 54401
COST: 4 CEUS
Individual Rate: $79
Group Rate: $59/person for group of 5 or more 
To register a group CLICK HERE
CANCELLATION POLICY
If for any reason you are unable to attend your scheduled course, please contact us prior to the start date of the course. This will ensure that we can provide a full refund of your course fees. If there are extenuating circumstances that prevented you from attending a course, please contact our office as soon as possible. If we do not receive any correspondence from you, you will be responsible for full payment of course fees.