Pine Tree Quilters Guild of Wausau proudly presents Quilt College 2023!
We are so excited to present two nationally known quilting instructors for a day of learning and sewing! Participants will leave with confidence to use their machine's walking foot to make quilted designs and will explore color and shading in a class where they create a gemstone design in their choice of colors.
Bring your sewing machine and materials from the supply lists and get ready to have some fun as we strengthen our quilting community! Quilt College 2023 features six hours of class time in NTC's up-to-date Health Sciences building, where each participant will have their own six-foot workspace. The modest $100 fee includes buffet lunch plus the fully coded freezer paper pattern for MJ Kinman's En Pointe design and the kit for Catherine Redford's walking foot workshop. What an amazing value!
Sponsored by: Pine Tree Quilters Guild & North Central Technical College. Pine Tree Quilters' goal is to provide high-quality quilting instruction to our quilting community.
En Pointe: An Introduction to Piecing with Freezer Paper
Taught by MJ Kinman via virtual instruction
MJ Kinman will introduce participants to her technique for creating gem patterns: traditional piecing using a freezer paper template. Her fully coded pattern and instructions will lead students through the process of creating one of her signature gems. The workshop will include discussion of color and design concepts such as how to make quilts sparkle and glow, and how to create transparency with fabric.
MJ's technique uses freezer paper, but it's NOT foundation paper piecing! She describes her technique as "traditional piecing using freezer paper." If you can put two pieces of fabric right sides together with a quarter inch seam allowance, YOU CAN DO THIS!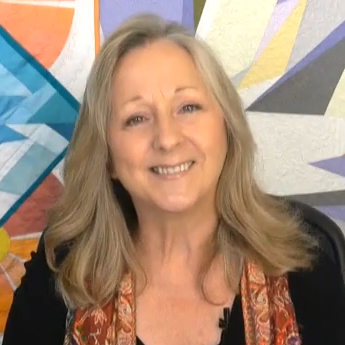 More About MJ Kinman
MJ Kinman's passion is creating quilts inspired by beautiful gems. The key is freezer paper and MJ is delighted to share her technique with students via in-person and virtual classes. MJ's work has been exhibited at the National Quilt Museum, the International Quilt Museum, the New England Quilt Museum, Quilt Festival (Houston, TX), Quilt Week (Paducah, KY), and Festival of Quilts (Birmingham, UK). Her work is included in collections as varied as Maker's Mark Distillery, the National Quilt Museum (Paducah, KY) and the International Quilt Museum (Lincoln, NE), plus many private collections around the United States. MJ's popular Birthstone Series patterns feature traditional birthstone gems, and her Diamond Divas Series offer large, artistic quilts easily customizable by makers. Her first book, Gemstone Quilts, was released by C&T Publishing in 2020.
Walking Foot Quilting: Beyond the Basics
Taught by Catherine Redford on site.
Catherine Redford will lead an advanced class in walking foot quilting on a domestic machine. Participants will make stitched samples of different styles, including matchstick quilting, grids, combined stitches, and serpentines. Then move on to organic curves, straight line polygon spirals and circular spirals. Along the way, she will discuss using colored threads and adding hand stitching for maximum impact.
Learn to finish your quilts on a domestic machine while enjoying all the control of your walking foot. During the class, you'll make stitched samples of different styles including matchstick quilting, grids, combined stitches, and serpentines. Elevate your technique with beautiful organic curves and learn how to execute sharp turns and make accurate straight line polygon spirals. Circular spirals round out the class. Along the way we will discuss using colored threads and adding hand stitching to your walking foot quilting for maximum impact. Finish with a look at Catherine's work to inspire you to go home and turn your tops into quilts. You will soon be planning your quilting before you even start piecing!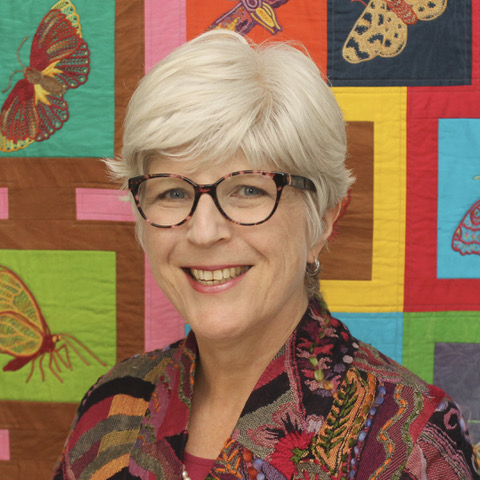 More About Catherine Redford
Catherine Redford was born in England where she learned to knit and sew as a young girl. After relocating from London to Naperville, Illinois, she learned to quilt and never looked back. She's an award-winning quilter, an active member of her local guilds, and a popular teacher at the local and national level. Catherine is a frequent magazine contributor and has enjoyed being a guest on Quilting Arts TV. She is enjoying the resurgence of interest in handwork with an embroidery book, Butterfly Stitches, published Fall 2020, and, with two DVDs and a book on Modern Machine Quilting techniques, Catherine delights in finishing her own quilts on a domestic machine!
Details
Limited to 100 students, each with their own workstation
$100.00 tuition per registrant, includes both classes, lunch & a swag bag with kit and freezer paper pattern.
You will need your own sewing machine with walking foot in good operating order and everything listed on the equipment & supply list.
Registration
Registration opens July 10,2023 and closes when filled or on October 7, 2023 whichever comes first. You can register online, by phone (715.675.3331), or in person at the Main Campus office during office hours.
Instructors
MJ Kinman: via virtual instruction, teaching color, design concepts, and special piecing techniques for her fabulous gemstone designs, a three-hour class.
Catherine Redford: in person, teaching advanced walking foot domestic machine quilting, a three-hour class.
Schedule
8am

Doors Open

9am – Noon

Class

Noon

Buffet Lunch (Included)

1pm – 4pm

Class

4:30

Doors Close
Frequently Asked Questions
Where will Quilt College be held in 2023?

This year we are back at Northcentral Technical College. Classes will be in the Center for Health Sciences building, 1000 Campus Drive, Wausau, WI 54401, located south of the Main Campus building.
Where should I park?

Lot B on the west side of the Center for Health Sciences building.
What if I have trouble moving my sewing machine from my car to the classroom?

If you have mobility issues and need assistance arrangements will be made for you. Please indicate that assistance is needed when you register. Once seated you and your equipment will stay in the same place for both classes.
How do I find the right room?

We will meet in CHS 1004A (128) and CHS 1004B (98). Classrooms are ground level and accessed from the west side of the Center for Health Sciences building. There will be volunteers and signage to direct you to these rooms.
What are the rooms like?

Each classroom is equipped with two large screens and up-to-date audio and visual technology. Both classrooms have excellent acoustics, robust sound systems, and are separated by a sound barrier curtain to allow participants to hear instruction clearly. Room monitors will be present in each room to help with questions and connect you with our in-person and virtual instructors.
Should I bring my own iron?

No, ironing stations will be provided around the perimeter of the classroom, in compliance with NTC Facilities Safety requirements.
How much workspace will I have?

Each classroom is equipped with 50 six-foot tables, one for each participant. It is preferred that people leave their portable sewing tables at home, to keep walkways open for everyone.
Will I need to move to the other classroom during lunch?

No. After your first class the instructors will switch rooms allowing you and your equipment to remain in the same place for your second class.
Will I be able to sit next to my friend?

Tables will not be assigned but will be claimed as participants arrive, on a first-come, first-served basis. Please arrive with your friend to choose tables together.
What do I need to bring along from home?

Supply lists from each instructor will be sent as attachments to your registration confirmation e-mail.
What's the lunch plan?

A Taco Bar served buffet style prepared by NTC's Culinary Arts program, is included in your registration. Dining will be at your workstation or at a group table in your classroom. Sit with your friends and make new ones.
Are there snack breaks?

You may bring your own beverages and snacks for breaks.
How much does it cost?

$100.00 tuition per registrant, includes both classes, lunch and a swag bag with assorted goodies. Instructor MJ Kinman is including her basic gem pattern for technique instruction, preprinted on freezer paper, and Catherine Redford is providing a small supply kit.
How do I register?

Registration opens July 10,2023, and closes October 7, 2023 via Northcentral Technical College's registration system.

Registration can be done either online, by phone, or in person at the Main Campus office during office hours.

Phone: (715) 675-3331, M – R: 6:30 a.m. – 9:00 p.m., Friday: 6:30 a.m. – 6:00 p.m., Saturday: 7:30 a.m. – 12:00 p.m. Sunday: Closed.

Participants can register and pay for multiple registrants; however, a separate registration is needed for each attendee.
A confirming e-mail will be sent to each registrant with course details, FAQ's, and supply lists.
An event reminder will be sent one week prior to the event.
Is shopping an option?

Both instructors will have items for sale, including books, patterns and notions. Credit cards or checks preferred, although Catherine Redford will accept cash.