(WAUSAU, Wis.) – Northcentral Technical College (NTC) is pleased to feature cooking tips from Culinary Instructor, Dr. Chef Brock Decker:
Our taste buds can take us on quite a journey without ever leaving our tongue.  Discovering the Big Secrets to Tasty Turkey was one of those for me.
My first Thanksgiving away from family, I was in Buffalo, NY in graduate school. A couple of other graduate students were also away from home and we decided to make Thanksgiving dinner. We dutifully studied The Joy of Cooking on brining poultry, cleaned out the fridge and brined our first turkey. The next morning, it roasted up wonderfully -- juicy and flavorful.
Secret #1: Brine Your Turkey
Brining, or soaking your turkey in a salt-water solution, adds flavor and moisture to the bird. Brining can be a simple salt-water solution (1 cup of salt to 1 gallon of water is the standard ratio) or herbs, citrus and spices can be mixed or boiled into brine like making a tea. The brine must be cold when applied to the bird. Proper brining requires the whole turkey to be submerged in the brine; a turkey bag in a Nesco roasting pan can work well for this.
Brining works through osmosis – the high salt content of the brine pushes water, salt and flavor into the cell walls of the meat. It made for a great, moist, roasted turkey. After we cut into the turkey however, it dried out more than we would have liked, so back to the drawing board we went. 
Secret #2: More Isn't Always Better
After the Mostly Great Thanksgiving Success of 2010, we decided to do it again next year – but better. Instead of brining our turkey for 12 hours, we got to things early and soaked the bird for a whole 36 hours. We were super excited at how moist and delicious it was going to be! 
Except it wasn't. It was spongy, salty and a textural nightmare. It didn't seem to ever cook no matter how hot it got. The turkey was over brined, pumped too full of liquid and we were quite sad. Thanksgiving was buffalo wings from Pizza Hut that year. Don't over-brine.
Secret #3: Use a Thermometer
Following the Great Thanksgiving Turkey Failure of 2011, we received A LOT of turkey advice; turn the turkey, tent the turkey, stuff the turkey, don't stuff the turkey, crack the oven door, spike the heat, low and slow, you name it, we heard it. What it all 'boiled' down to was that we needed to keep a better eye on the temperature of the meat. 
In order to do that, we didn't stuff the bird with stuffing – all that wet bread can't get to a safe temperature before the rest of the bird overcooks! A loose dressing of onion, herbs and citrus is nice, but it shouldn't obstruct air flow in the cavity so it can cook consistently. 
We also bought a digital instant read thermometer. Amazon will deliver one to your door for $16. If you don't have one, get one. They don't require recalibrating and operate quickly, reducing the amount of time your oven door is open. 
Take accurate internal temperatures from the fattest part of the breast, along the breastbone (with the tip of the thermometer in the middle of the meat, not poking out of it) and in the thigh and along the leg, next to the bone. Turkey should hit 165 degrees Fahrenheit, no higher.
Secret #4: Rest!
When the internal temperature reaches 165 degrees Fahrenheit, pull that turkey out of the hot oven, but don't cut right into it! 
We remembered 2010 when we carved the turkey; the platter sat piled high and steaming with turkey while the rest of the sides were dished and everyone gathered. By the time everyone descends on the feast, that delicious smelling bird that we've been craving all morning was so dry that we had to make extra gravy on the fly. As Les Nessman will tell you, turkeys don't fly.
One of our sciency buddies, Nathan, explained: cooking makes the proteins in meat tense up and exude moisture. If we cut into hot, steaming meat, we let all that moisture out. If, instead, we let the turkey rest, come down to 120 degrees Fahrenheit, then carve it, we let the juices moisturize the meat instead of escaping into the air. Don't worry, it'll still be warm enough to eat. 
2012 was the year the Thanksgiving turkey really took off. We finally put together the Secrets – brine your turkey but not too much; cook it through but only to 165 degrees Fahrenheit; let it rest! – and in our last year together in graduate school before we went many different directions, our cobbled together family who couldn't get home for Thanksgiving finally made a great turkey. Joe Z in L.A., Chris in NYC, Schmave in Boston, Joe P in Baltimore and Brock in Wausau – we're still making our turkeys with the Big Secrets. The ingredients change some years, and so does the cooking equipment but we always find that the Big Secrets to Tasty Turkey never lead us astray.
Chef Brock is one of three instructors at Northcentral Technical College's Culinary Arts Department. The program offers a two year associates degree in Culinary Arts with multiple four year transfer opportunities. Questions about the program or future article suggestions can be sent to Deckerb@ntc.edu.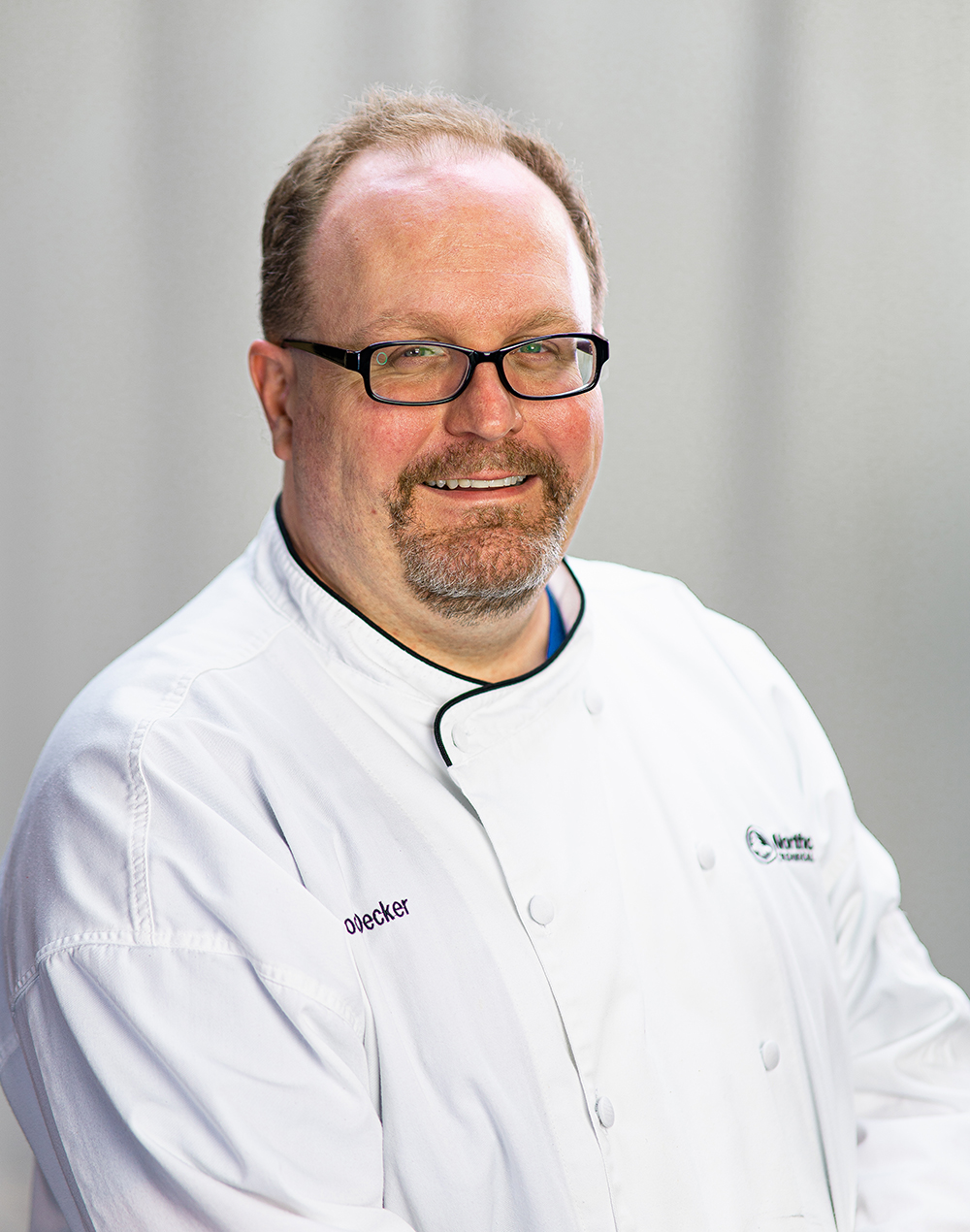 ###
Northcentral Technical College (www.ntc.edu) is north central Wisconsin's premier two-year college of choice and is a resource for all District residents. It provides individuals, organizations and businesses with quality skills training in a wide range of programs designed to build a competitive, technologically advanced workforce in today's rapidly changing global environment. NTC has six convenient campus locations in Wausau, Antigo, Medford, Phillips, Spencer and Wittenberg, as well as a Public Safety Center of Excellence in Merrill, a Wood Technology Center of Excellence in Antigo and an Agriculture Center of Excellence just north of the Wausau Campus in the Village of Maine. The Wausau Campus also features a Center for Health Sciences, Professional Conference Center, Information Technology & Entrepreneurial Center (iTEC), Studio Max Salon and Spa, SPOONS Restaurant and an Advanced Engineering and Manufacturing Center of Excellence.