Each and every day, our donors have a significant impact on our learners, our businesses and our communities by lending their support to the NTC Foundation. Their generosity takes many forms and provides for student scholarships and emergency assistance funds, capital projects and other student-focused initiatives. There are many ways to give and each is vital to the success of our students.
Scholarships Awarded
620
Awarded in 2017–2018
Scholarship Money Awarded
$400,000
Awarded in 2017–2018
Student Emergency Grants Given
80
Given in 2017–2018
We believe it is essential that we help students who need support pursuing their college education. A number of philanthropists and generous community members who value higher education and enjoy supporting help us achieve this. Join them in making a difference in the lives of our students.
Dr. Lori Weyers…"We are the college that cares."
Dr. Lori Weyers has served as NTC President since 2006 and during that time has made a significant impact on the lives of countless students. Her leadership example and generosity inspires others to embrace the NTC "College that cares" culture. During her tenure at NTC, Dr. Weyers has initiated a number of scholarships, including the Lori Weyers Presidential Scholarship and those established in memory of her parents Lorraine and Tony, father-in-law Clayton, and aunt Peg; and one in honor of her son Ryan.
The first scholarship established by Dr. Weyers was the Lorraine and Tony Van Boxtel Memorial Scholarship, which is now an endowment that will continue to assist students for many years to come.
"I established this scholarship in memory of my parents, Lorraine and Tony Van Boxtel. Through my many years in the technical college system, I know and understand only too well the financial barriers students face when they embark on a goal of higher education. It is my hope that this scholarship provides the recipient with the recognition and encouragement that my parents gave me when I began my own education journey."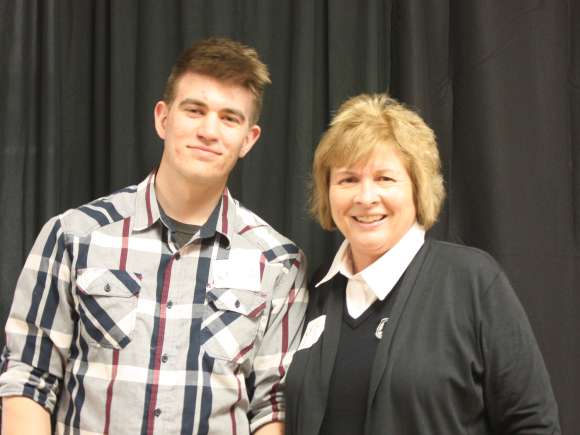 Beth Ferrel Memorial Scholarship…"A legacy of serving others inspires the next generation."
Beth Ann Brigson Ferrel dedicated her life to serving others through her chosen profession of counseling. Her career journey included time as an in-home family counselor, a therapist at an in-patient facility, and as the coordinator of the Family Crisis Center in Stevens Point. She then chose to share her incredible wisdom and skill with students at NTC, where she taught psychology until her death.
Out of the many jobs Beth undertook in her life, she enjoyed teaching the most. Beth died September 2, 2007 at her residence in Stevens Point surrounded by her loving family after a valiant eight-year battle with cancer. She dedicated her life to helping others, and her family established the Beth Ferrel Memorial Scholarship to carry forward her legacy of inspiring students.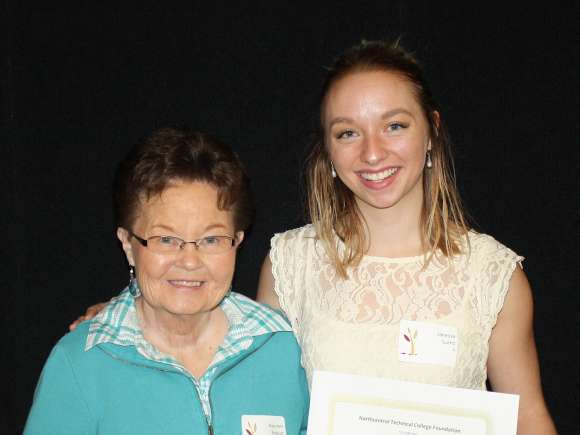 Jerry and Mary Frickenstein…"Quietly making a difference."
Jerry and Mary Frickenstein are long-time friends of NTC and are often seen on their daily walk in the neighborhood surrounding the College, or during the winter months, strolling our halls, and making stops along the way to chat with students and staff. They are both alumni of NTC and have developed a keen interest in learning about new programs and initiatives.
Jerry and Mary recently attended an NTC open house and decided to establish a scholarship for students in the Wood Science program. After discussing the options, they decided to establish two, so Jerry could determine criteria for one scholarship and Mary for the other. Since that time they have started two additional scholarships, bringing their total to four each year. Jerry and Mary enjoy giving back to the College and are quietly making a difference…one student at a time.
Scott and Lucas Gast Scholarship…"Providing hope and making dreams come true."
The Scott and Lucas Gast Scholarship was established in 2013 by NTC staff member, Dr. Brad Gast, in memory of his father, Scott, and son, Lucas. The scholarship awards funding to students with financial need who display academic excellence, strong citizenship and character, and a desire to make a meaningful contribution to society. This award is designed to instill hope and make the dreams of education come true by honoring the spirit and passion of Scott and Lucas.
"The Scott and Lucas Gast Memorial Scholarship was established to honor the spirit and memory of Scott and Lucas Gast. Through this scholarship, we aim to continue the dreams and passion they instilled upon those whose lives they touched. Scott was the type of person who could simply elevate everyone around him…he connected with everyone, everyone knew him, and everyone enjoyed being around him. He led by example through hard work, dedication, drive, respect, dignity and humility and passed those values to everyone he touched. His passion was always to be in the ring making a difference. Lucas represents hope, dreams, passion, the spirit of living life for everything it is worth and the importance of capturing the moment."