(WAUSAU, Wis.) – Northcentral Technical College (NTC) is adding four 3D printers to the science, technology, engineering and math (STEM) center at the Wausau campus. The printers will be used by students in the STEM Center and provide exposure to design and rapid prototyping. Support for this project was provided through the Wausau-Marathon County Fund of the Community Foundation of North Central Wisconsin.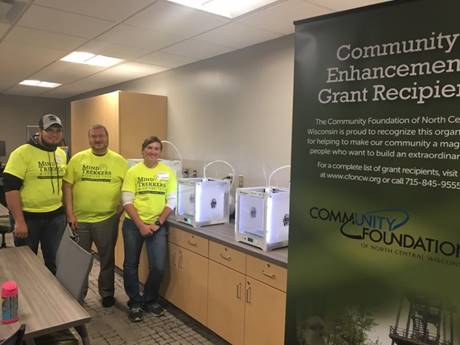 Left to Right: John Schlaefer, Thomas Narvaez, and Kali Kaiser
# # #
Northcentral Technical College (www.ntc.edu) is north central Wisconsin's premier two-year college of choice and is a resource for all District residents. It provides individuals, organizations and businesses with quality skills training in a wide range of programs designed to build a competitive, technologically advanced workforce in today's rapidly changing global environment. NTC has seven convenient locations and three Centers of Excellence in Antigo, Medford, Merrill, Phillips, Spencer, Wausau and Wittenberg.