Boost Your Learning
Northcentral Technical College's (NTC) Information Technology Entrepreneurial Center (iTEC) projects lab is a unique, vibrant space designed to serve Information Technology (IT) and entrepreneurial-minded students at the Wausau campus.
The iTEC serves not only as a physical space for quiet study, creation or collaboration, but also as a valuable resource for students. In one convenient location, students hoping to achieve success in IT programs can also work with peer tutors, receive faculty support during office hours or experiment on some of the most cutting-edge technology available at NTC.
If you have general questions about the services or spaces the iTEC offers, please call 715.803.1601 or stop into the iTEC during regularly scheduled hours.
Location:
Main Campus Wausau
Room: A134
Fall & Spring Hours:
Monday – Thursday: 8:00am - 9:00pm
Friday: 8:00am – 6:00pm
Saturday – Sunday: Closed
Summer Hours:
The iTEC is closed for the Summer and will not reopen until August 28th.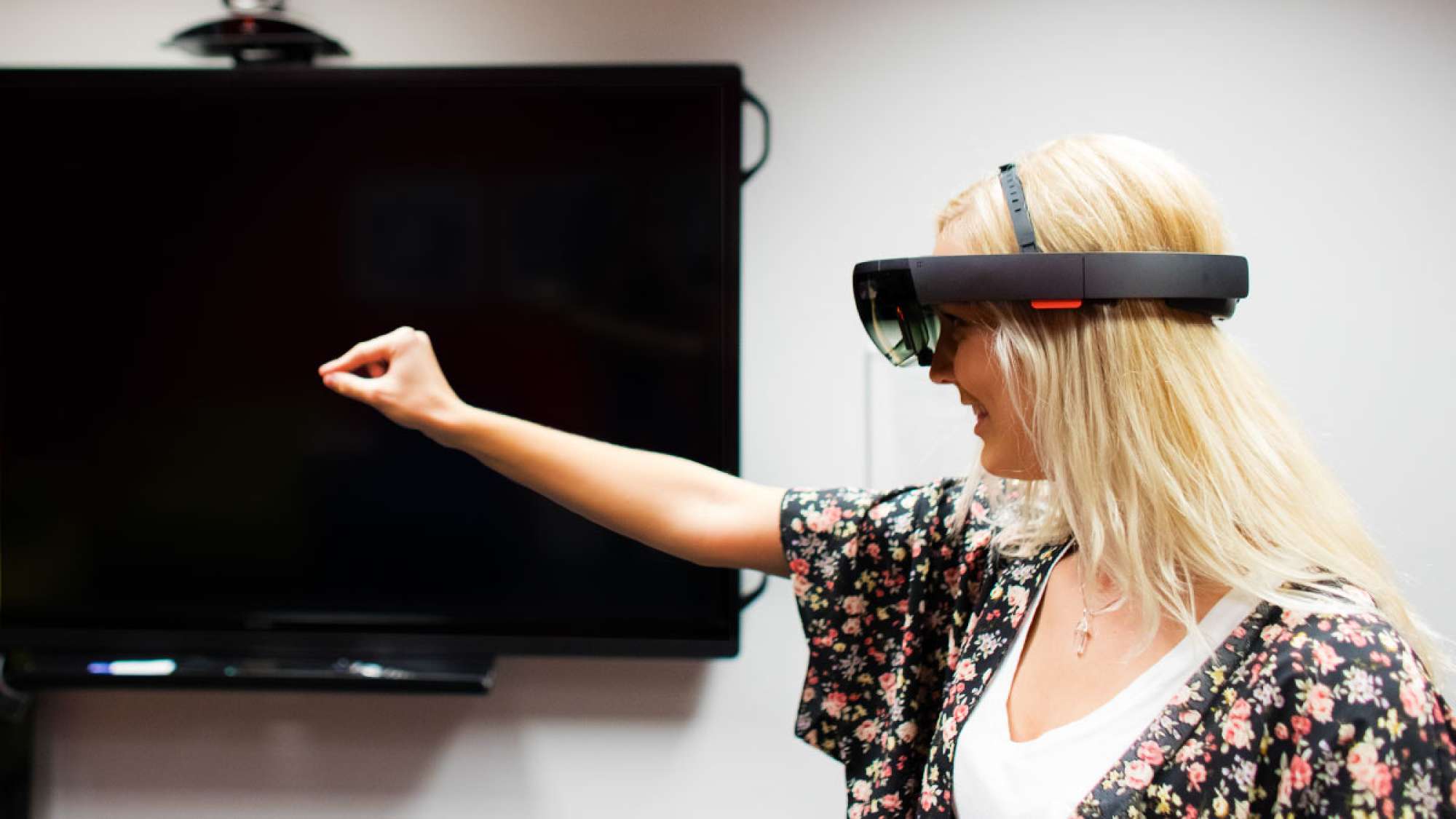 The iTEC provides the opportunity to rent out mobile devices, tablets and laptops to assist students who are working on designing applications or websites and need additional screens for testing purposes.
Tutoring
You can receive tutoring help from an instructor, instructional assistant, or peer tutor by stopping into the iTEC. Tutoring is available In-person or remotely through email, telephone, Adobe Connect, Google Hangouts, and Skype.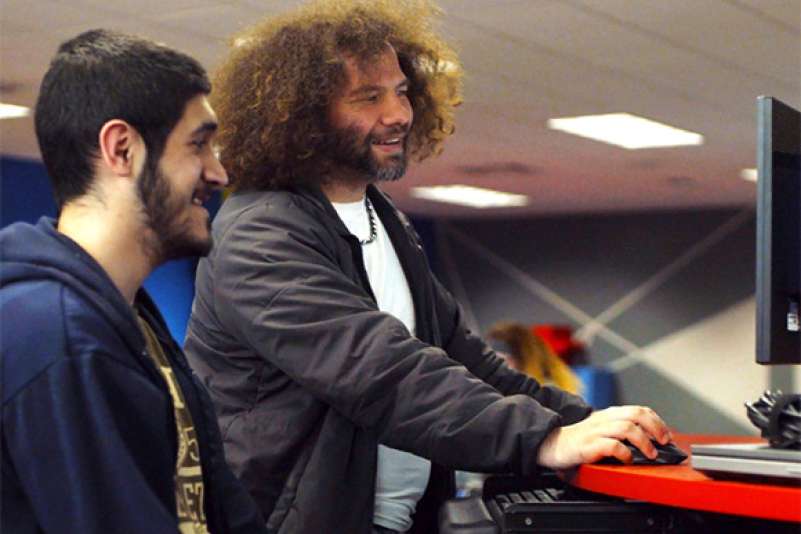 Study Space
If you're hoping to enjoy some quiet study time, conduct individual work, or simply relax between your classes, there are private rooms and soft seating available inside and outside the iTEC.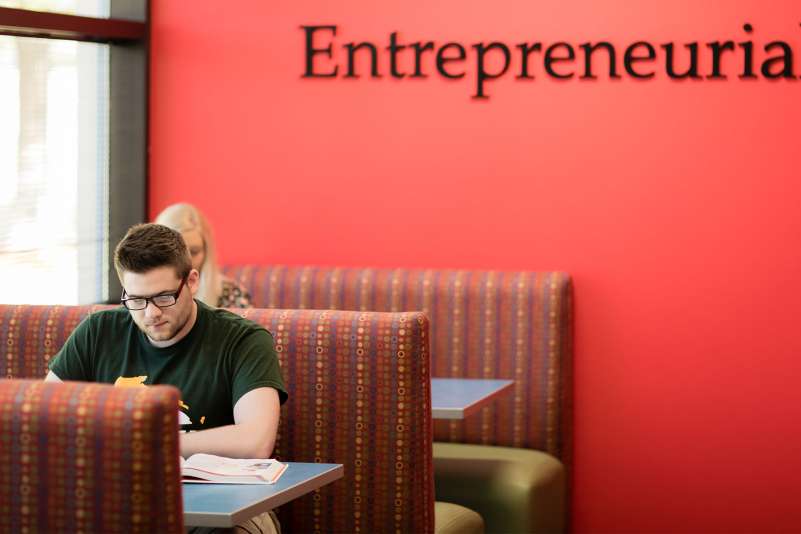 Better Ways to Collaborate
Collaboration is critical for IT students at NTC, and the iTEC is set up to encourage and enhance small team productivity for those working on class projects or connecting remotely with classmates at other NTC campuses.
Flexible Workspaces
Project groups can take advantage of the flexible furniture or utilize soft seating within the iTEC. Many of the courses taught at NTC require team projects, especially in the area of information technology, and this facility provides students with the ability to come together and work collaboratively in groups.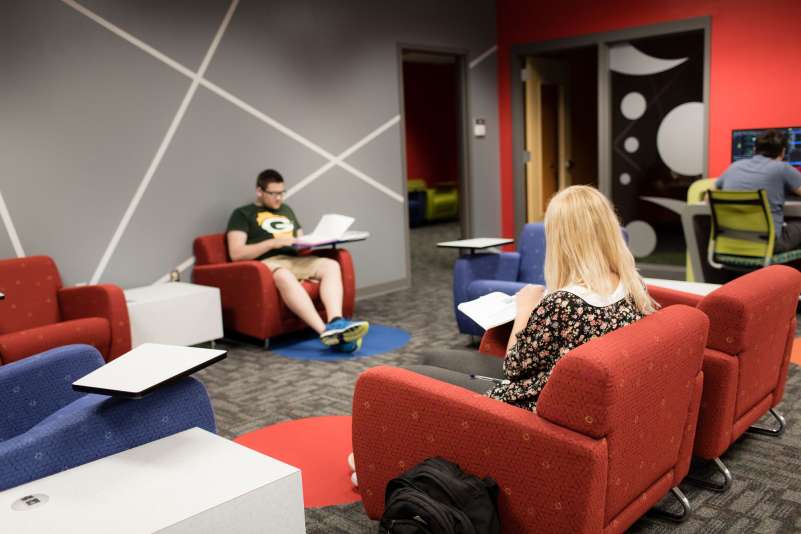 Regional Campus Collaboration
To better incorporate students from regional campus locations into a group project during class, iTEC provides three regional collaboration project rooms with technology to allow Wausau-based student teams to connect with team members from regional campus locations or receive tutoring using the following technology: Skype, Adobe Connect, Collaborate, Google Hangouts, Screen sharing software, Dual screen TVs, High-definition cameras, Touch screen computers.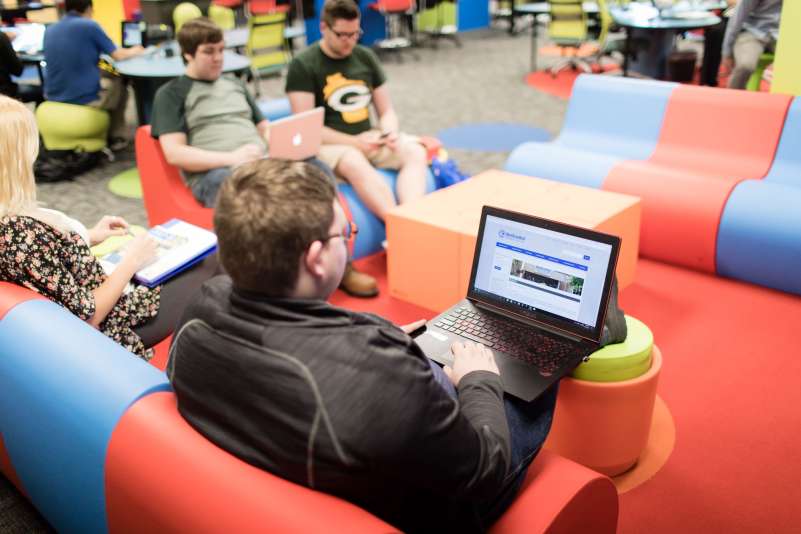 iTEC Virtual Tour
Step Into the iTEC
Featuring open work stations, private collaboration rooms, and a plethora of technology, the iTEC was created for you to stretch your imagination while working on IT projects. Check out the vibrant space in a 360° panoramic available in our virtual tour.