(WAUSAU, Wis.) – Northcentral Technical College (NTC) is pleased to recognize students who placed in the 2021 National Professional Agriculture Students (PAS) Conference during the spring semester.
National PAS is a non-profit, student-led organization offering a national collegiate-level competition-style learning model that gives students the practical and hands-on development opportunities essential for career success. Students compete at the local, state, and national levels and are guided by faculty advisors to develop the technical, professional and soft skills required for career success within the agriculture industry.
"We are so proud of the leadership and vision of our PAS students," said Dr. Greg Cisewski, Dean of NTC's School of Agricultural Science, Utilities and Transportation. "Not only have they succeeded displaying their skills during national and state competitions, but the students and their advisor have participated in or led several activities to help others in our community. Their definition of success is not limited to their personal performance."
This year's conference, themed "Breaking new ground, empowering emerging leaders," was held virtually on March 15-19. NTC students competed in several individual and team categories, ultimately placing in the following:
Team Dairy Specialist Competition:
1st Place
Victoria Leitza
Jaylen Leonhard
Autumn Salzwedel
4th Place
Kelsey Burton
Anissa Lyshik
Brandon Stolz
Individual Dairy Specialist Competition:
1st Place: Autumn Salzwedel
2nd Place: Victoria Leitza
3rd Place: Jaylen Leonhard
5th Place: Kelsey Burton
Employment Interview for Dairy Production Competition:
2nd Place: Lydia Kildahl
3rd Place: Victoria Leitza
"Our students worked hard and effortlessly showcased their dedication and love for agriculture," said Charl Van Der Nest, NTC Faculty. "They are great advocates for agriculture and I am excited to see where their futures will take them."
Additionally, Van Der Nest was elected to serve on the National PAS Organization Board of Directors. The organization also welcomed Jett Sherpo, NTC student, as a newly elected Vice President.
NTC students who also participated in the National PAS Organization conference include:
Trevyn Wilke, Ryan Williams, Peyton Behnke, Stacey Adamski, Lydia Kildahl, Eli Strebig, Alex Brezezinski, Lily Trzebiatowski, Erin Elsner, Kylie Block, Ella Johnson and Marisa Radloff
To learn more about the National PAS Organization or the 2021 conference, visit: www.nationalpas.org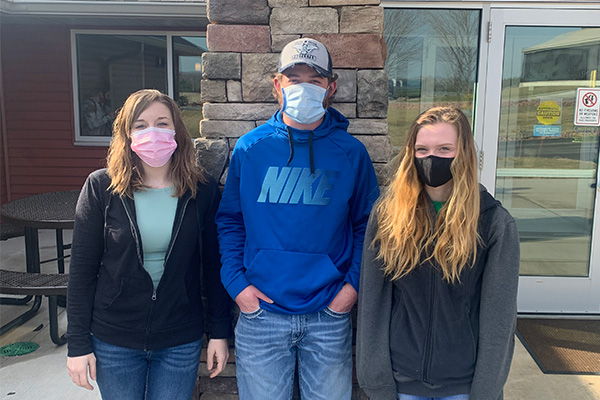 Students Photographed L to R: Victoria Leitza, Jaylen Leonhard, Autumn Salzwedel
###
Northcentral Technical College (www.ntc.edu) is north central Wisconsin's premier two-year college of choice and is a resource for all District residents. It provides individuals, organizations and businesses with quality skills training in a wide range of programs designed to build a competitive, technologically advanced workforce in today's rapidly changing global environment. NTC has six convenient campus locations in Wausau, Antigo, Medford, Phillips, Spencer, and Wittenberg, as well as a Public Safety Center of Excellence in Merrill, a Wood Technology Center of Excellence in Antigo and an Agriculture Center of Excellence just north of the Wausau Campus in the Village of Maine.  The Wausau Campus also features a Center for Health Sciences, Center for Business & Industry, Information Technology & Entrepreneurial Center (iTEC), STEM Center, Advanced Manufacturing and Engineering Center of Excellence, SPOONS restaurant, Studio Max Salon + Spa and a Center for Geriatric Education.