As in life, the business world faces change on a daily basis. How a business reacts to change often has a direct impact on whether that business succeeds or fails. Failure is often the product of poor planning. The fireground is where battles are fought, and if we fail it is often with disastrous results. In the business world, if a business fails, it can be disastrous for the leaders; the team; and, most of all, the customers.
This program takes the strategy and tactics used by today's fire service leaders and applies them to the business community. What is revealed is how the Incident Management System (IMS), a nationally recognized methodology used at every fire or major disaster, when applied to a business operation, can ensure successful and productive results no matter what obstacles or challenges you may face.
5 alarm Leadership
1st Alarm: Surviving Life's Fire: Managing Change
The Incident Management System (IMS), how to deal more effectively with change, balancing work and home, understanding change as an opportunity for success.
2nd Alarm: Building your Team
Preparing, developing systems to ensure high quality team work, empowerment, instilling ownership, hiring the right team.
3rd Alarm: Building Tomorrow's Leaders and Successors
Preparing for the future, what makes great leaders, understanding what employees want and expect, building employee loyalty.
4th Alarm: Customer Service That Works
Incident Action Planning (IAP), building customer loyalty, standing out from the crowd.
5th Alarm: Embracing Success
Post Incident Analysis (PIA), continuous improvement, celebrating success.
About the Instructor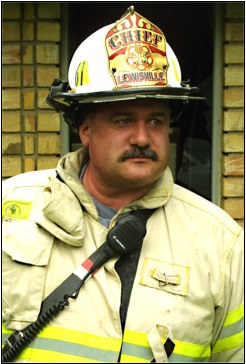 Chief Rick Lasky, a 38-year veteran of the fire service, served as chief of the Lewisville (TX) Fire Department for 12 years, prior to that as Fire Chief in Coeur d'Alene Idaho. Most recently, he was interim Chief for the Trophy Club (TX) Fire Department. Rick followed in his father's footsteps beginning his career as a firefighter in the suburbs on the southwest side of Chicago and has been a line firefighter-paramedic, company grade officer, training officer and command-level officer. Rick has authored two best-selling books, co-hosts a radio show, and is a sought-after speaker by both the public and private sectors. 
Cost
$69 
CEUs
Certificates for 8 CEUs will be available.
Cancellation Policy
If for any reason you are unable to attend your scheduled course, please contact us prior to the start date of the course. This will ensure that we can provide a full refund of your course fees. If there are extenuating circumstances that prevented you from attending a course, please contact our office as soon as possible. If we do not receive any correspondence from you, you will be responsible for full payment of course fees.