International Student Admissions
With a long history of serving international students, NTC is proud to provide a caring campus community for students looking to study abroad.
We provide support services and community involvement opportunities to encourage your success and help you grow as an individual as you work toward your educational goals.
Application Process
International students wishing to attend NTC need to fill out a standard application to the college, but are also required to complete additional steps. Examples include providing a statement of financial resources, or meeting TOEFL (Test of English as a Foreign Language) requirements for non-native speakers of English.
Materials Needed for Admission
$50 Application fee
Statement of financial resources (You will need to provide evidence of sufficient funds to pay for tuition, books, school-related costs and all living expenses for your period of study at NTC. Estimated costs can be found on individual program pages.)
High school transcripts (Official transcripts of academic records. Non-English documents must be accompanied by a certified and evaluated English translation. Two possible credential evaluators are: World Educational Service – International Academic Credential Evaluation & Educational Credentials Evaluators)
Non-native speakers of English must meet our TOEFL test requirement: TOEFL Score of 70 on the Internet version, with a minimum of 17 in Speaking and Writing. Please provide us with an official test score report. If you have any questions about the TOEFL, such as finding a location near you, costs and test dates, please visit the TOEFL website. Alternately, we accept the IELTS (International English Language Testing System) test.
Copy of Passport ID page
You may send copies of your College/University transcripts, but high school transcripts are still required.
Please send all required materials to: 
Northcentral Technical College
Mailstop: C110
1000 W. Campus Drive
Wausau, WI 54401-1899, USA
What's Next?
After Submission of All Materials
Once we receive all your materials and you are admitted to a program, you will be mailed a letter of admission and issued the I-20. Your next step is to visit the local U.S. Consulate or Embassy in your country. Bring your:
Letter of Admission from NTC
Valid Passport
Original financial documents
 I-20
Once you receive your F-1 visa, you may travel to Wisconsin to attend NTC. Make sure to review the Homeland Security guidelines for Special Registration of nonimmigrant visas and Student and Exchange Visitor Information System (SEVIS).
Upon Arrival to NTC
Take the Accuplacer IEP placement test
Provide evidence of health insurance
Pay all tuition and fees for books/materials when registering for classes 
Questions?
If you have any questions, please contact Nick Lampone.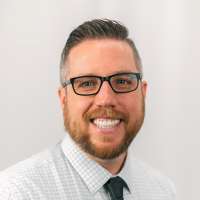 Nick Lampone
Director of Enrollment
Nick oversees enrollment at the College and helps students through the process.